Original post was here:
Update email with links etc:
We'd like to start by saying a huge thank you to all who either attended or listened back to the conversation between Dave and Nora last week. For those of you with the URL open awaiting an opportune moment to listen in, you're in for a treat! "The margins of meaning… is where novelty emerges" During this first open dialogue, Nora and Dave weaved a concoction of theory, practice, and of course story around the "necessary blur" and ambiguity required in the exploration of living systems. Tracing the frictions around attempts to remove uncertainty through organisational complexity and the sometimes trivialisation of the body of theory as it transfers across contexts, they entangled and disentangled concepts and mobilising metaphors such as "abduction", "hope" and "rigour" through culture, time and place.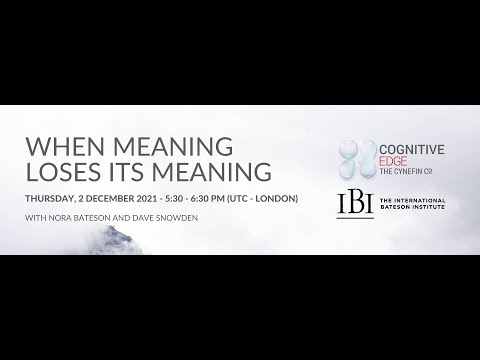 Unsurprisingly, although the chat function was switched off – due to the numbers of those attending and the desire to allow people to fully focus in – there was a lovely buzz in the Q&A, as can be seen in the wordcloud below. For those of you who shared comments and questions, we have these saved and will be using them to guide future conversations… so please watch this space and we will follow up very soon with the next event.  
For now, we share a list of references mentioned for you all to get your teeth into. 
Charles Sanders Peirce, the original reference on the abductive process. This is an encyclopaedic source, but his original writings are easily discoverable for anyone who wants to dig deeper: The children's party story and how we all know how to deal with complexity in daily lifeThe NHS Sensemaking Series Part one: Foundations for Complexity with Nora Bateson and Dave Snowden Jürgen Moltmann, Theology of Hope: On the Ground and the Implications of a Christian Eschatology, translated by Margaret Kohl Hope without Optimism by Terry EagletonGregory Bateson on abduction, from Mind and Nature; A Necessary unityWarm Data Lab and People Need People (online) training with Nora Bateson: https://warmdatalab.net/ Warm Data and Iced Lemonade: A deeply human response to complexity is possibleEva Jablonka on epigeneticsBook extractFree-to-access paper published by the Royal Society: The Journey (film)Small changes around climate change: The project that started it alland the Cynefin Centre climate change programmeR. S. Thomas, The Bright FieldDavid Graeber and David Wengrow, The Dawn of EverythingA New Word to Describe an Aspect of Living Systems: Aphanipoiesis by Nora BatesonSymmathesy: a word in progress by Nora Bateson. Proceedings of the 59th Annual Meeting of the ISSS 2015. Flexuous curves: Flexuous focusFlexuous flightReference on the Numinous: Rudolf Otto and The Idea of the HolyIntroduction to poetry, by Billy CollinsExaptation Boisot on abstraction and codification To finish with a lovely reminder from Nora: "life is not like a wristwatch", so let's all take a leaf out of Alice's book and keep ourselves open to as many impossible things before breakfast as we "possibly" can…until we meet again (all credit goes to one of our participants for this quote!).