source: https://oecd-opsi.org/systemic-governing-applied-systems-thinking-in-practice/

Systemic Governing – Applied systems thinking in practice
Written by Ed Straw and Professor Ray Ison on 26 May 2020
Guest blog from the Applied Systems Thinking in Practice Group, School of Engineering & Innovation, The Open University (UK)
Systems thinking in times of complex challenges
The Covid-19 pandemic has shown what governments can do when faced with an existential threat: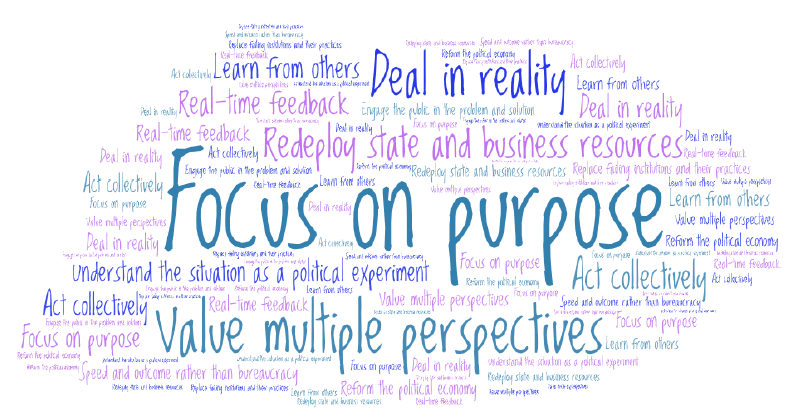 The above figure describes systemic responses that our book concludes are essential in modern government: Focus on purpose, Deal in reality, Real-time feedback, Learn from others, Value multiple perspectives, Speed and outcome rather than bureaucracy, Act collectively, Replace failing institutions and their practices, Redeploy state and business resources, Reform the political economy, Engage the public in the problem and solution, and Understand the situation as a political experiment.
The climate and associated emergencies are existential threats. These will require even more of governments and of governance. Further, these new ways of governing are what is needed to enable governments to achieve real and lasting beneficial change, consistently, across the board. Our thesis is that it is only through new systems of governance and new ways of thinking and acting can the human world manage the climate and associated emergencies, reduce inequality and reestablish widespread confidence in government. This is termed 'second order change'. A young Algerian woman interviewed recently by the BBC said:
'I have decided not to leave the country. The system has to leave.'
Our book is an invitation to us all to think about, and change, what we do when we do what we do.
Continues in source: https://oecd-opsi.org/systemic-governing-applied-systems-thinking-in-practice/