source:

THE ADJACENT POSSIBLE | Edge.org
THE ADJACENT POSSIBLE
A Talk with Stuart A. Kauffman [11.9.03]
An autonomous agent is something that can both reproduce itself and do at least one thermodynamic work cycle. It turns out that this is true of all free-living cells, excepting weird special cases. They all do work cycles, just like the bacterium spinning its flagellum as it swims up the glucose gradient. The cells in your body are busy doing work cycles all the time.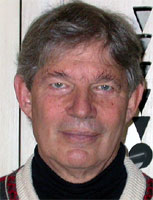 Introduction
Stuart Kauffman is a theoretical biologist who studies the origin of life and the origins of molecular organization. Thirty- five years ago, he developed the Kauffman models, which are random networks exhibiting a kind of self-organization that he terms "order for free." Kauffman is not easy. His models are rigorous, mathematical, and, to many of his colleagues, somewhat difficult to understand. A key to his worldview is the notion that convergent rather than divergent flow plays the deciding role in the evolution of life. He believes that the complex systems best able to adapt are those poised on the border between chaos and disorder.
Kauffman asks a question that goes beyond those asked by other evolutionary theorists: if selection is operating all the time, how do we build a theory that combines self-organization (order for free) and selection? The answer lies in a "new" biology, somewhat similar to that proposed by Brian Goodwin, in which natural selection is married to structuralism.
Lately, Kauffman says that he has been "hamstrung by the fact that I don't see how you can see ahead of time what the variables will be. You begin science by stating the configuration space. You know the variables, you know the laws, you know the forces, and the whole question is, how does the thing work in that space? If you can't see ahead of time what the variables are, the microscopic variables for example for the biosphere, how do you get started on the job of an integrated theory? I don't know how to do that. I understand what the paleontologists do, but they're dealing with the past. How do we get started on something where we could talk about the future of a biosphere?"
"There is a chance that there are general laws. I've thought about four of them. One of them says that autonomous agents have to live the most complex game that they can. The second has to do with the construction of ecosystems. The third has to do with Per Bak's self-organized criticality in ecosystems. And the fourth concerns the idea of the adjacent possible. It just may be the case that biospheres on average keep expanding into the adjacent possible. By doing so they increase the diversity of what can happen next. It may be that biospheres, as a secular trend, maximize the rate of exploration of the adjacent possible. If they did it too fast, they would destroy their own internal organization, so there may be internal gating mechanisms. This is why I call this an average secular trend, since they explore the adjacent possible as fast as they can get away with it. There's a lot of neat science to be done to unpack that, and I'm thinking about it."
continues in source:

THE ADJACENT POSSIBLE | Edge.org