source:

Topaasia®: Systems Intelligence -Interview of Esa Saarinen & Raimo Hämäläinen
Topaasia: Systems Intelligence – Interview with Esa Saarinen and Raimo Hämäläinen
The Systems Intelligence is the result of the joint research work of the philosopher Esa Saarinen and professor emeritus Raimo Hämäläinen, which has been developed in Aalto University since 2001. The Systems Intelligence combines human sensitivity with the world changing engineering thinking. Topaasia – Systems Intelligence game is based on this research and made in collaboration with Esa and Raimo. We interviewed gentlemen about systems intelligence, applying it to the Topaasia format and how it can benefit organizations playing it.
Systems Intellect is a collection of human competencies
As a human being you are always part of a bigger whole or a system. The System Intelligence is the hallmark of man's ability to strive for success in the systems, where he lives his life. It is human ability to improve life. People can easily see things in small sections and problems, instead of building a successful whole. Systems Intelligence gives you the tools to think about whether something should be done in a different way?
In the Systems intelligence, the talents already present in the human being is named so that people becomes more aware of them. The Glossary that is used aims to change and stimulate action. It is not a theory which, from the outside, depicts someone's reality, which can be internalized and transferred to their own activities. Instead, systems intelligence is something that a person himself already does, but can do more or better. It's a promise to be better at what you've been good in already and before. The aim of Systems intelligence is not only to understand the systems, but also to act in them. It aims to launch human growth process.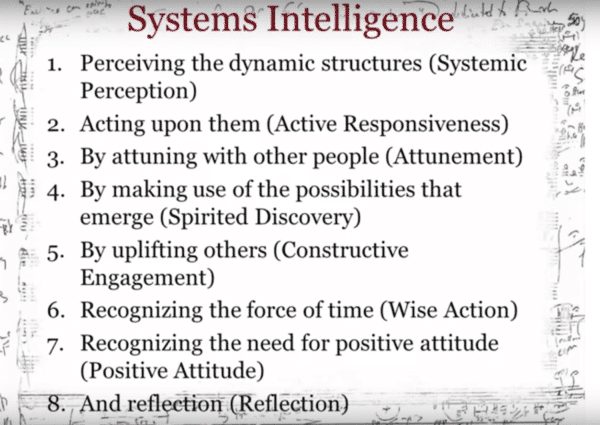 Areas of The System Intelligence. Source: Esa Saarinen The course Philosophy and systems thinking in Aalto University. Lecture 8 – The philosophy of the whole
Continues in source:

Topaasia®: Systems Intelligence -Interview of Esa Saarinen & Raimo Hämäläinen