In search of 'Aha Moments': 50 Years of transformative learning with STiP

In search of 'Aha Moments': 50 Years of transformative learning with STiP Tickets, Tue 7 Dec 2021 at 12:00 | Eventbrite
DEC 07
In search of 'Aha Moments': 50 Years of transformative learning with STiP
by The Open University, Faculty of STEM
Event Information
Explore the history and achievements of The Open University's 50 year-commitment to co-designing and providing Systems education.
About this event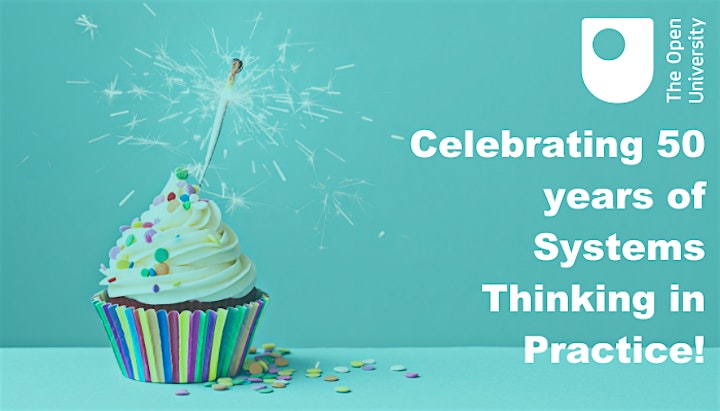 About the event
As part of the STiP@50 event series, Professor Ray Ison employs a STiP (Systems Thinking in Practice) lens to explore the history and achievements of The Open University's 50 year-commitment to co-designing and providing Systems education, drawing from these experiences lessons for our current circumstances and future action.
Ray will be introduced by Kris Stutchbury, Senior Lecturer in Teacher Education at The Open University and Academic Director for the multi award-winning Teacher Education in sub-Saharan Africa (TESSA) programme – the largest established teacher education network in Africa. Kris is also daughter of the renowned systems thinking practitioner Peter Checkland.
About STiP at The Open University
In 1971, The Open University (OU) in the UK pioneered academic education with the creation of the Department of Systems responsible for presenting a widening range of Systems learning opportunities, now under the aegis of STiP (Systems Thinking in Practice). Since 1971, nearly 50,000 students have studied STiP modules, and many systems resources can be found on the OpenLearn and FutureLearn platforms.
After 50 years, the OU offers a thriving postgraduate suite of qualifications in STiP, supported by internationally acclaimed academics. STiP capabilities are increasingly demanded to make sense, strategise and improve problematical situations in all areas and at all levels, from global human-induced climate change to public health, addressing domestic violence through community health services or business viability. In response to this growing need in 2022 the OU will also become a provider (in England) of masters level Systems Thinking Practitioner Apprenticeships.
Please join us in the 2021 event series that celebrates the STiP Jubilee of The Open University. To receive the live links for the talk, you are invited to register on this page through Eventbrite. Here you will have the option of watching Ray on YouTube or Facebook Live if you prefer not to join through The Open University Zoom platform.
We hope you will join us online for the talk, and/or on social media for the conversation using #OUSTiP and #OUSTiP50. Please feel free to circulate details to friends and colleagues who may not be on this email listing.
A short history of OU systems thinking is available to download here.
We look forward to your participation in fruitful conversations to appreciate the value of STiP for the betterment of all lives in Home Earth.
Privacy Notice – Open University Events booked through Eventbrite, document owned and updated as necessary by the Data Protection team.
About the presenter
Professor Ray Ison joined the Systems Department at The Open University as Professor of Systems in 1994 having moved from the University of Sydney. Since then Ray has been involved in all facets of academic life, including considerable external engagement with STiP alumni, international networks of STiP-oriented scholars and researchers, and in international leadership roles within the Systems and Cybernetics communities. Ray is currently in his second term as President of IFSR (International Federation for Systems Research) a 'peak body' of systems, cybernetic and complexity organisations and professional bodies.
In his talk Ray hopes to provide insights into claims made by Diana Laurillard from research which identified "Five distinct ways in which university students describe what they mean by 'learning'. This research was replicated at many universities with the same result, except at the OU. OU students also saw learning as a way of 'changing as a person' – something that students at other universities did not identify." In the OU STiP experience, learning associated with 'Aha moments' extends beyond students.
Ray will claim that the life of a STiP educator/academic and 'would be improver' of our world pivots around the emergence of Aha moments. This presentation will explore the nature and scope of Aha moments that have emerged from 50 years of STiP praxis at the OU. In a world facing the need for new ways of thinking and acting in what some now call the Anthropocene, a new framing for human-induced changes in the biosphere, there has never been a greater need for Aha moments! In this regard, the OU STiP experience has much of value to offer: the purposeful design of learning systems; a constant striving to provide an active, situated and embodied pedagogy; a strong ethos of the importance of relationship, multiple perspectives and, thus co-design and co-inquiry processes, to name but a few.
About the John Beishon memorial lecture series
John Beishon (1930-2001) was the first Professor of Systems at The Open University
John Beishon's life and contribution, and based on his work, the contributions of the Systems Group at the OU, are celebrated in this 4th John Beishon Memorial Lecture.
John Beishon set the essential directions for systems teaching at the OU. Under his chairmanship, T241: Systems Behaviour, the first systems course, ran for 18 years from 1972-1990. The earliest systems-academic staff appointments were made by him. Some of these staff have only recently retired.