source:

LEARNING CHANGE • Adaptive Social Learning for Transition Times Registration, Multiple Dates | Eventbrite
LEARNING CHANGE • Adaptive Social Learning for Transition Times
by Anthropocene Transition Network IncFollowDonation
Event Information
Join free-flowing in-depth conversations between four leading change-makers Wednesdays: SEP 23 / OCT 21 / NOV 18 / DEC 16 •• 6-8 PM *
About this Event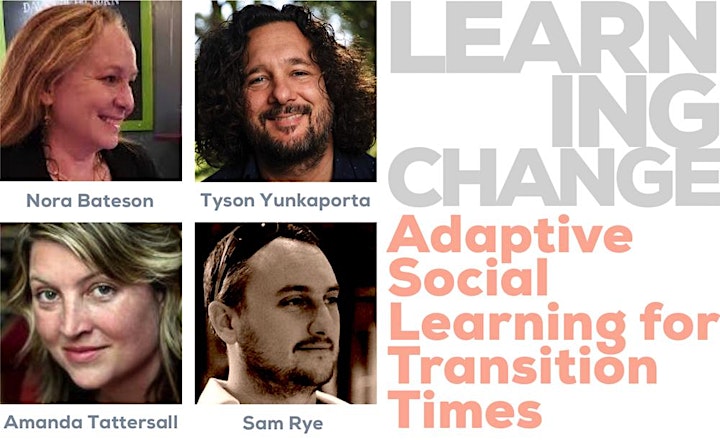 How do we embed collective learning as an essential part of whatever change processes we are involved with?
How do we harvest that learning in ways that make it useful to other communities and movements?
And how do we share those learnings across distributed networks?
Nora, Tyson, Amanda and Sam will participate in all sessions. They bring a wealth of knowledge and experience across diverse arenas of systemic change-making and collaborative learning in action. Yet each has a very distinct praxis. Together they will take a deep dive into some of the most challenging questions of a time of uncertainty and cascading environmental and social upheaval.
This series of online conversations offer a unique co-learning opportunity for those who understand the urgency of systemic change and want to deepen and refresh their own practice.
Each session will conclude with time for Q&A.
* NOTE: Times are shown in AEST (UTC+10) for September 23 and Australian Daylight Saving Time (UTC+11) for October 21, November 18 and December 16.
Our guests for all four sessions: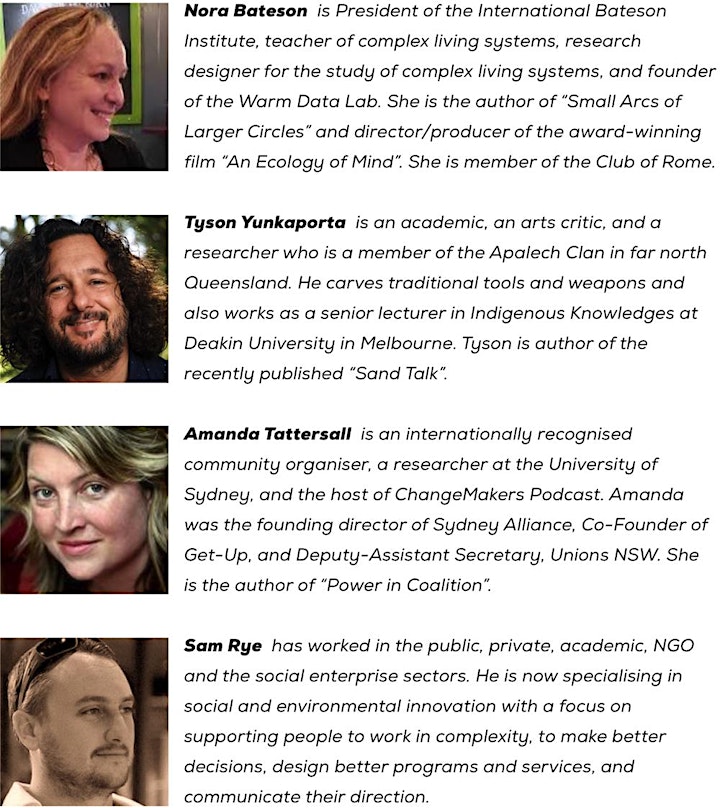 Registration is essential to received the Zoom login link the day before each session
••• IF YOU PLAN TO PARTICIPATE IN ALL FOUR SESSIONS YOU NEED ONLY REGISTER FOR THE FIRST ONE AND YOU WILL BE SENT THE LOGIN INFO EACH MONTH •••
ATN donations policy • Please read carefully
Anthropocene Transition Network Inc is a self-funded volunteer-run incorporated association. We depend on the generosity of our program participants, supporters and friends to cover our costs, develop new programs, and cross-subsidise the involvement of people who can only afford a modest contribution.
Our policy is to invite participants in all our programs to make the most generous donation they can afford within a recommended range. Our practice is guided by the principle of 'Dana', a Sanskrit word that connotes the merit of generosity, one of the most basic human virtues.
This is an entirely voluntary expression of your support proportional to your means. No one is ever turned away from ATN programs because of inability to contribute.
For this on-line series we recommend a donation in the range $40-$400 FOR THE WHOLE SERIES, but this is entirely your choice. It is also possible to register for individual sessions. No one will be turned away while places are available.
book at source:

LEARNING CHANGE • Adaptive Social Learning for Transition Times Registration, Multiple Dates | Eventbrite