JUN 07 ECONOMIC AND SOCIETAL RESTRUCTURING IN A POST-COVID WORLD by Enlightened Enterprise Academy Follow £0 – £10 Actions and Detail Panel Share this event Tickets Event Information A SYSTEMS THINKING PERSPECTIVE

ECONOMIC AND SOCIETAL RESTRUCTURING IN A POST-COVID WORLD Tickets, Mon 7 Jun 2021 at 14:00 | Eventbrite
JUN 07
ECONOMIC AND SOCIETAL RESTRUCTURING IN A POST-COVID WORLD
by Enlightened Enterprise Academy Follow£0 – £10
A SYSTEMS THINKING PERSPECTIVE
The impact of the Covid-19 pandemic on developed economies is likely to be comparable to that of the Great Depression and the Second World War; its global reach possibly far greater. It has exposed systemic weaknesses in many of the critical institutions on which society depends, revealing their lack of preparedness and inability to respond to uncertainty.
Following the Great Depression, the response in the US was the New Deal, designed to provide relief to the poor and unemployed, recovery of the economy to normal levels, and reform of the financial system to prevent a repeat event. The responses to the Second World War included the Bretton Woods Agreement and the Marshall Plan, aimed at achieving monetary order and economic redevelopment in Europe.
It is becoming clear that we need a comparable economic and societal restructuring plan for the post-pandemic world. But it needs to be even more ambitious than previous recovery initiatives. It must prepare us for the future, rather than just seeking to get us back to where we were. The pandemic has revealed how many of our key institutions are unfit for purpose in the modern era. We need to be asking questions about what type of society we want to live in, and how to redesign the critical systems society now needs to better serve our purposes.
In this context, the Enlightened Enterprise Academy and Critical Systems Forum will host a series of conferences on the theme 'Critical Systems Thinking: Economic and Societal Restructuring in a Post-Covid World'. The audience will include politicians, policymakers and economists – people vital to any recovery program. But we will also invite a much wider range of multi-disciplinary experts, including leading systems thinkers with expertise in a wide range of systemic approaches. The aim is to contribute to the redesign, reform, and recovery efforts of leaders of institutions and organisations in all sectors of the economy and in all parts of the world.
Follow-up events to this one will explore some themes in more depth (details below).
Event Host
This event is hosted by the Enlightened Enterprise Academy and represents the first conference of our Critical Systems Forum. The forum is an initiative supported by Dr Michael C Jackson OBE, Author of Critical Systems Thinking and the Management of Complexity, founder and former Dean of Hull University Business School, and today a Professor Emeritus at the school.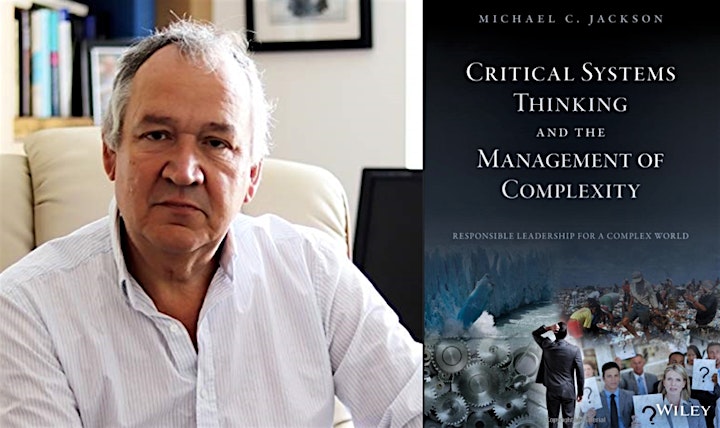 The Agenda
2-2.10 Welcome and Introductions
2.10-2.30 Provocation 1 (20 mins)
2.30-2.50 Provocation 2 (20 mins)
2.50-3.10 Provocation 3 (20 mins)
3.10-3.20 Introduction of the panellists (10 mins)
3.20-3.45 Individual panellist responses (5 x 5 mins )
3.45-4.15 Moderated discussion amongst the panellists (30 mins)
4.15-4.30 Provocoteaur reflections on the discussion (3 x 5 mins)
4.30-4.55 Moderated Q&A with questions from the audience
4.55-5.00 Closing remarks and announcements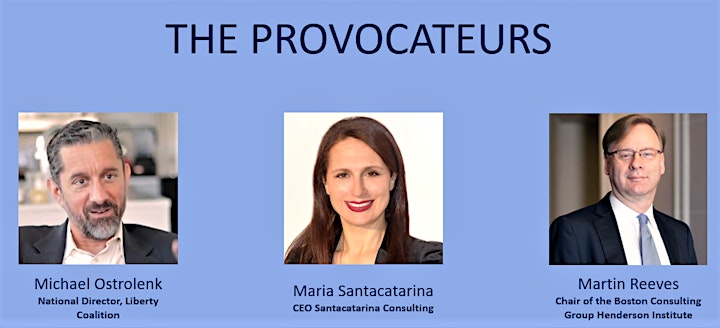 The Provocateurs are:
Michael Ostrolenk, National Director, Liberty Coalition
Maria Santacatarina, CEO Santacatarina Consulting
Martin Reeves, Chair Boston Consulting Group Henderson Institute
Further details to be added soon
The Panellists are:
To be announced soon.
Follow-Up Events
Follow-up events will explore:
How we go about 'Bridging the Capabilities Gap' to ensure leaders and other stakeholders have the systems thinking, critical thinking and decision-making capacities to cope with the complexity they encounter in a VUCA world. This is about changing our ways of thinking.
How we go about 'Getting the Institutions and Organisations we Need' – government, local government, business, third sector – to meet the challenges we face in the post-Covid world. This is about changing our ways of organising.
How we go about 'Rethinking and Strengthening the Social Compact' between the public and private sectors, civil society, and citizens to enable us to 'build back better' post-Covid. This is about changing our ways of relating.
Dates for these events will be announced on June 7th at the end of the first coference.